Unirope Gains Full Membership with LEEA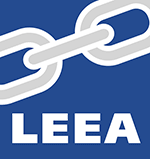 Only Full Member Rigging Shop in Canada
Unirope Limited is pleased to announce that we have been granted Full Membership to the Lifting Equipment Engineers Association (LEEA). With the certification Unirope Limited has been granted Full Membership at all three of our branches – Mississauga, Ontario; Montreal, Quebec and; Edmonton, Alberta.

This certification marks another step towards our commitment to the safety and training of our employees and customers as our top priority. In fact Unirope is now one of only two Full Members of LEEA in Canada and the only Canadian Full Member manufacturing lifting and rigging products. But this is not the first time that Unirope has been proactive in our pursuit of being the best-trained company in our industry. Unirope made a similar commitment to NCCCO in 2011, mandating that all of our Rigging Consultants become NCCCO certified riggers, and we were the first company in Canada to do so.
The LEEA Certification audit goes well beyond that of an ISO 9001 standard audit as it actually performs inspections of product quality, workmanship, staff training, condition of manufacturing and testing equipment, level and competency of service and, product inspections and repairs. Furthermore, the audit also evaluated Unirope's rigging and inspection training programs and the competency of the Unirope rigging trainers who perform Certification Rigging Courses to users and safety authorities.
LEEA is a recognized leading authority on safe and legal overhead lifting and offers a wide range of services to its members. LEEA membership therefore helps to develop and maintain professional standards and provides its members with a genuine competitive advantage.
This applies especially to companies that are operating on a worldwide scale, like oil and gas producers, offshore drilling companies, and mining companies. For them, it is very important to work together with rigging and lifting companies who have been audited and certified by an internationally recognized professional safety authority, like LEEA.
For more information visit www.leeaint.com