Lifter LockOut
Keep your employees safe with our patented* Lifter LockOut™. The innovative device senses when a load is in the lifter and locks out the lifter functions to prevent inadvertent opening of the lifter. This can be installed on most motorized lifters that do not have a means of locking out the drive. Caldwell Model 84 Coil Grab, Model 85P Paper Roll Grab, and Model 60 Sheet lifters are just a few examples. It can even be installed on other manufacturers' lifting equipment.
* Patent 8,870,253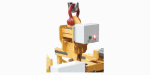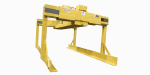 Product Features
Senses when a load is on the lifter and locks out its functions by turning off the electrical power.
Eliminates the possibility of the operator accidentally opening the lifter and dropping the load.
Can be added to any motorized lifter.
Easy to install. Simply hang from you crane hook, pin to the lifter, plug in and adjust as needed.
Product Options
Special Voltages.
Custom attachment point for lifter.
Custom attachment to crane hook.
Larger capacities.
Heavier lifter weights.