Load Ring VWBG-V/VWBG Metric Thread
Lifting Point-Vario VWBG-V
(variable thread lengths also available)
Suitable for all loads which swivel and tilt. Can be loaded in all directions with a 4:1 design factor.
Swiveling under full load is permissible provided the inclination angle is not perpendicular to the screw-in direction.
Not suitable for permanent swiveling under full load. Can also be supplied with variable (vario) thread lengths.
Easy assembly due to the single threaded tapping.
High tensile, inspected suspension ring.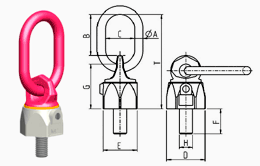 Lifting Point threaded VWBG
(variable thread lengths also available)
With increased WLL in axial direction and when load ring is aligned.
Surface: pink powder coated.
For all loads, which have to be flipped and turned-over. Loadable in any direction: safety factor 4. Can be turned under load. Cannot be turned continuously in 90° direction at full load.
Simple assembly, just a tapped hole is required.
High tensile, tested lifting lug acc. to EN1677-4.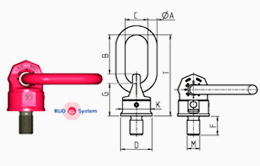 CAD Files
Designation
Item
Number
WLL*
(kg)
Weigth
(kg)
A
(mm)
B
(mm)
T
(mm)
C
(mm)
D
(mm)
E
(mm)
F
(mm)
G
(mm)
H
(mm)
K
(mm)
M
Add.
Require-
ments
DXF
(2D)
IGES
(3D)
STEP
(3D)
Lifting Point-Vario VWBG-V 0.3-M8
7103720
300
0.18
8
31
76
29
30
28
13
36
M8
Lifting Point-Vario VWBG-V 0.45-M10
7103715
450
0.29
8
31
78
29
36
30
17
38
M10
Lifting Point-Vario VWBG-V 0.6-M12 with standard length
7100180
600
0.41
10
49
107
35
42
36
21
47
M12
Lifting Point-Vario VWBG-V 1.0t-M14 (F=21)
8600337
1,000
0.63
13
46
114
38
48
41
21
56
M14
Lifting Point-Vario VWBG-V 1.3t-M16
7100430
1,300
0.59
13
46
114
38
48
41
25
56
M16
Lifting Point-Vario VWBG-V 1.8t-M18 (F=27)
8600338
1,800
1.18
13
54
137
35
64
55
27
67
M18
Lifting Point-Vario VWBG-V 2.0t-M20
7100800
2,000
1.42
13
54
137
35
64
55
33
67
M20
Lifting Point-Vario VWBG-V 2.0t-M22 (F=33)
8600334
2,000
1.45
13
54
137
35
62
55
33
67
M22
Lifting Point-Vario VWBG-V 3.5t-M24 with standard length
7100640
3,500
2.63
18
66
173
40
81
70
40
88
M24
Lifting Point-Vario VWBG-V 3.5t-M27 (F=41)
8600335
3,500
2.65
18
66
173
40
81
70
41
88
M27
Lifting Point-Vario VWBG-V 5.0t-M30 with standard length
7100650
5,000
5.09
22
90
221
50
99
85
50
106
M30
Lifting Point threaded VWBG 6(7.5)t-M33 (F=50)
8600150
6,000
5.60
23
86
208
50
90
80
50
96
M33
80
Lifting Point threaded VWBG 8(10)t-M36)
7999059
8,000
4.67
22
86
208
50
90
54
94
80
M36
Lifting Point threaded VWBG 12(13)t-M42
7999044
12,000
6.10
26
111
234
65
98
63
95
85
M42
Lifting Point threaded VWBG 12(15)t-M45
7900455
12,000
6.24
26
111
234
65
98
67
95
85
M45
Lifting Point threaded VWBG 13(16)t-M48
7999045
13,000
6.37
26
111
234
65
98
68
95
85
M48
Lifting Point threaded VWBG 14(20)t-M52
7901081
14,000
10.55
32
119
271
70
120
78
120
95
M52
Lifting Point threaded VWBG 16(22)t-M56
7999004
16,000
10.68
32
119
271
70
120
84
120
95
M56
Lifting Point threaded VWBG 16(22)t-M60 (F=90)
8600454
16,000
11.37
32
119
271
70
120
90
120
95
M60
Lifting Point threaded VWBG 16(25)t-M64
7999043
16,000
11.40
32
119
274
70
120
94
120
95
M64
Lifting Point threaded VWBG 31.5(40)t-M72
7900097
31,500
29.96
46
130
338
90
170
108
159
145
M72
Lifting Point threaded VWBG 35(48)t-M80
7900100
35,000
31.19
46
130
338
90
170
120
159
145
M80
Lifting Point threaded VWBG 40(50)t-M90
7995545
40,000
33.16
46
130
338
90
170
135
159
145
M90
Lifting Point threaded VWBG 40(50)t M100 (F=150mm)
8600157
40,000
35.13
46
130
338
90
170
150
159
145
M100
Lifting Point-Vario VWBG-V 0.3t-M8 with variable length
8600330
300
8
31
76
29
30
28
13–102
36
M8
Lifting Point-Vario VWBG-V 0.45t-M10 with variable length
8600331
450
8
31
78
29
36
30
17–122
38
M10
Lifting Point-Vario VWBG-V 0.6t-M12 with variable length
8600332
600
10
49
107
35
42
36
21–140
47
M12
Lifting Point-Vario VWBG-V 1.0t-M14 with variable length
8600337
1,000
13
46
114
38
48
41
21–65
56
M14
Lifting Point-Vario VWBG-V 1.3-M16 with variable length
8600333
1,300
13
46
114
38
48
41
16–180
56
M16
Lifting Point-Vario VWBG-V 1.8t-M18 with variable length
8600338
1,800
13
54
137
35
64
55
18–83
67
M18
Lifting Point-Vario VWBG-V 2.0t-M20 with variable length
8600334
2,000
13
54
137
35
64
55
20–223
67
M20
Lifting Point-Vario VWBG-V 3.5t-M24 with variable length
8600335
3,500
18
66
173
40
81
70
24–255
88
M24
Lifting Point-Vario VWBG-V 3.5t-M27 with variable length
8600339
3,500
18
66
173
40
81
70
27–92
88
M27
Lifting Point-Vario VWBG-V 5.0t-M30 with variable length
8600336
5,000
22
90
221
50
99
85
30–330
106
30
Lifting Point threaded VWBG 6(7.5)t with special thread
8600150
6,000
23
86
208
50
90
80
33–300
94
80
Lifting Point threaded VWBG 8(10)t with special thread
8600451
8,000
23
86
208
50
90
36–300
94
80
Lifting Point threaded VWBG 12(13)t with special thread
8600452
12,000
26
111
234
65
98
85
42–300
95
Lifting Point threaded VWBG 13(16)t with special thread
8600453
13,000
26
111
234
65
98
85
48–300
95
Lifting Point threaded VWBG 16(22)t with special thread
8600454
16,000
32
116
274
70
120
56–300
120
95
Lifting Point threaded VWBG 16(25)t with special thread
8600455
16,000
32
116
274
70
120
64–300
120
95
Lifting Point threaded VWBG 31.5(40)t with special thread
8600456
31,500
46
130
338
90
170
72–300
159
145
Lifting Point threaded VWBG 35(48)t with special thread
8600457
35,000
46
130
338
90
170
80–300
159
145
Lifting Point threaded VWBG 40(50)t with special thread
8600157
40,000
46
130
338
90
170
90–300
159
145
Lifting Point-Vario VWBG-V 0.3t-M8 with max. length F=102
8600330
300
0.29
8
31
76
29
30
28
102
36
M8
Lifting Point-Vario VWBG-V 0.45t-M10 with max. length F=122
8600331
450
0.38
8
31
78
29
36
30
122
38
M10
Lifting Point-Vario VWBG-V 0.6T-M12 with max. length F=140
8600332
600
0.61
10
49
107
35
42
36
140
47
M12
Lifting Point-Vario VWBG-V 1.0t-M14 with max. length F=65
8600337
1,000
0.20
13
46
114
38
48
41
65
56
M14
Lifting Point-Vario VWBG-V 1.3t-M16 with max. length F=180
8600333
1,300
0.89
13
46
114
38
48
41
180
56
M16
Lifting Point-Vario VWBG-V 1.8t-M18 with max. length F=83
8600338
1,800
1.10
13
54
137
35
64
55
83
67
M18
Lifting Point-Vario VWBG-V 2.0t-M20 with max. length F=223
8600334
2,000
1.81
13
54
137
35
64
55
223
67
M20
Lifting Point-Vario VWBG-V 2.0t-M22 with max. length F=94
8600334
2,000
1.45
13
54
137
35
62
55
94
67
M22
Lifting Point-Vario VWBG-V 3.5t-M24 with max. length F=255
8600335
3,500
3.50
18
66
173
40
81
70
255
88
M24
Lifting Point-Vario VWBG-V 3.5t-M27 with max. length F=92
8600339
3,500
2.93
18
66
173
40
81
70
92
88
M27
Lifting Point-Vario VWBG-V 5.0t-M30 with max. length F=330
8600336
5,000
7
22
90
221
50
99
85
330
106
30

* Working Load Limit Lifting Capacity Indicate Length Upon Request Indicate M size & F length upon request
CAD Files
Designation
Item
Number
WLL*
(lbs)
Weigth
(lbs)
A
(in)
B
(in)
T
(in)
C
(in)
D
(in)
E
(in)
F
(in)
G
(in)
H
(in)
K
(in)
M
Add.
Require-
ments
DXF
(2D)
IGES
(3D)
STEP
(3D)
Lifting Point-Vario VWBG-V 0.3-M8
7103720
660
0.40
5⁄16
17⁄32
3
15⁄32
13⁄16
11⁄8
1⁄2
127⁄64
M8
Lifting Point-Vario VWBG-V 0.45-M10
7103715
990
0.64
5⁄16
17⁄32
31⁄16
15⁄32
127⁄64
13⁄16
43⁄64
11⁄2
M10
Lifting Point-Vario VWBG-V 0.6-M12 with standard length
7100180
1,320
0.90
3⁄8
115⁄16
47⁄32
13⁄8
121⁄32
127⁄64
13⁄16
17⁄8
M12
Lifting Point-Vario VWBG-V 1.0t-M14 (F=21)
8600337
2,200
1.39
1⁄2
113⁄16
41⁄2
11⁄2
17⁄8
15⁄8
13⁄16
23⁄16
M14
Lifting Point-Vario VWBG-V 1.3t-M16
7100430
2,860
1.30
1⁄2
113⁄16
41⁄2
11⁄2
17⁄8
15⁄8
63⁄64
23⁄16
M16
Lifting Point-Vario VWBG-V 1.8t-M18 (F=27)
8600338
3,960
2.60
1⁄2
21⁄8
53⁄8
13⁄8
21⁄2
25⁄32
11⁄16
25⁄8
M18
Lifting Point-Vario VWBG-V 2.0t-M20
7100800
4,400
3.13
1⁄2
21⁄8
53⁄8
13⁄8
21⁄2
25⁄32
15⁄16
25⁄8
M20
Lifting Point-Vario VWBG-V 2.0t-M22 (F=33)
8600334
4,400
3.20
1⁄2
21⁄8
53⁄8
13⁄8
27⁄16
25⁄32
15⁄16
25⁄8
M22
Lifting Point-Vario VWBG-V 3.5t-M24 with standard length
7100640
7,700
5.80
11⁄16
25⁄8
613⁄16
19⁄16
33⁄16
23⁄4
19⁄16
315⁄32
M24
Lifting Point-Vario VWBG-V 3.5t-M27 (F=41)
8600335
7,700
5.84
11⁄16
25⁄8
613⁄16
19⁄16
33⁄16
23⁄4
15⁄8
315⁄32
M27
Lifting Point-Vario VWBG-V 5.0t-M30 with standard length
7100650
11,000
11.22
7⁄8
317⁄32
811⁄16
131⁄32
37⁄8
311⁄32
131⁄32
43⁄16
M30
Lifting Point threaded VWBG 6(7.5)t-M33 (F=50)
8600150
13,200
12.35
29⁄32
33⁄8
83⁄16
131⁄32
317⁄32
31⁄8
131⁄32
325⁄32
M33
31⁄8
Lifting Point threaded VWBG 8(10)t-M36)
7999059
17,600
10.30
7⁄8
33⁄8
83⁄16
131⁄32
317⁄32
21⁄8
311⁄16
31⁄8
M36
Lifting Point threaded VWBG 12(13)t-M42
7999044
26,400
13.45
1
413⁄32
97⁄32
29⁄16
327⁄32
215⁄32
33⁄4
311⁄32
M42
Lifting Point threaded VWBG 12(15)t-M45
7900455
26,400
13.76
1
413⁄32
97⁄32
29⁄16
327⁄32
25⁄8
33⁄4
311⁄32
M45
Lifting Point threaded VWBG 13(16)t-M48
7999045
28,600
14.04
1
413⁄32
97⁄32
29⁄16
327⁄32
211⁄16
33⁄4
311⁄32
M48
Lifting Point threaded VWBG 14(20)t-M52
7901081
30,800
23.26
11⁄4
411⁄16
1021⁄32
23⁄4
43⁄4
31⁄16
43⁄4
33⁄4
M52
Lifting Point threaded VWBG 16(22)t-M56
7999004
35,200
23.55
11⁄4
411⁄16
1021⁄32
23⁄4
43⁄4
35⁄16
43⁄4
33⁄4
M56
Lifting Point threaded VWBG 16(22)t-M60 (F=90)
8600454
35,200
25.07
11⁄4
411⁄16
1021⁄32
23⁄4
43⁄4
317⁄32
43⁄4
33⁄4
M60
Lifting Point threaded VWBG 16(25)t-M64
7999043
35,200
25.13
11⁄4
411⁄16
1025⁄32
23⁄4
43⁄4
311⁄16
43⁄4
33⁄4
M64
Lifting Point threaded VWBG 31.5(40)t-M72
7900097
69,300
66.05
113⁄16
51⁄8
135⁄16
317⁄32
611⁄16
41⁄4
61⁄4
511⁄16
M72
Lifting Point threaded VWBG 35(48)t-M80
7900100
77,000
68.76
113⁄16
51⁄8
135⁄16
317⁄32
611⁄16
43⁄4
61⁄4
511⁄16
M80
Lifting Point threaded VWBG 40(50)t-M90
7995545
88,000
73.11
113⁄16
51⁄8
135⁄16
317⁄32
611⁄16
55⁄16
61⁄4
511⁄16
M90
Lifting Point threaded VWBG 40(50)t M100 (F=150mm)
8600157
88,000
77.45
113⁄16
51⁄8
135⁄16
317⁄32
611⁄16
57⁄8
61⁄4
511⁄16
M100
Lifting Point-Vario VWBG-V 0.3t-M8 with variable length
8600330
660
5⁄16
17⁄32
3
15⁄32
13⁄16
11⁄8
1⁄2–4
127⁄64
M8
Lifting Point-Vario VWBG-V 0.45t-M10 with variable length
8600331
990
5⁄16
17⁄32
31⁄16
15⁄32
127⁄64
13⁄16
11⁄16–43⁄4
11⁄2
M10
Lifting Point-Vario VWBG-V 0.6t-M12 with variable length
8600332
1,320
3⁄8
115⁄16
47⁄32
13⁄8
121⁄32
127⁄64
13⁄16–51⁄2
17⁄8
M12
Lifting Point-Vario VWBG-V 1.0t-M14 with variable length
8600337
2,200
1⁄2
113⁄16
41⁄2
11⁄2
17⁄8
15⁄8
9⁄16–29⁄16
23⁄16
M14
Lifting Point-Vario VWBG-V 1.3-M16 with variable length
8600333
2,860
1⁄2
113⁄16
41⁄2
11⁄2
17⁄8
15⁄8
5⁄8–71⁄16
23⁄16
M16
Lifting Point-Vario VWBG-V 1.8t-M18 with variable length
8600338
3,960
1⁄2
21⁄8
53⁄8
13⁄8
21⁄2
25⁄32
23⁄32–31⁄4
25⁄8
M18
Lifting Point-Vario VWBG-V 2.0t-M20 with variable length
8600334
4,400
1⁄2
21⁄8
53⁄8
13⁄8
21⁄2
25⁄32
13⁄16–825⁄32
25⁄8
M20
Lifting Point-Vario VWBG-V 3.5t-M24 with variable length
8600335
7,700
11⁄16
25⁄8
613⁄16
19⁄16
33⁄16
23⁄4
1–10
315⁄32
M24
Lifting Point-Vario VWBG-V 3.5t-M27 with variable length
8600339
7,700
11⁄16
25⁄8
613⁄16
19⁄16
33⁄16
23⁄4
35⁄8
315⁄32
M27
Lifting Point-Vario VWBG-V 5.0t-M30 with variable length
8600336
11,000
7⁄8
317⁄32
811⁄16
131⁄32
37⁄8
311⁄32
13⁄16–13
43⁄16
13⁄16
Lifting Point threaded VWBG 6(7.5)t with special thread
8600150
13,200
29⁄32
33⁄8
83⁄16
131⁄32
317⁄32
31⁄8
1113⁄16
311⁄16
31⁄8
Lifting Point threaded VWBG 8(10)t with special thread
8600451
17,600
29⁄32
33⁄8
83⁄16
131⁄32
317⁄32
17⁄16–113⁄4
311⁄16
31⁄8
Lifting Point threaded VWBG 12(13)t with special thread
8600452
26,400
1
413⁄32
97⁄32
29⁄16
327⁄32
311⁄32
111⁄16–113⁄4
33⁄4
Lifting Point threaded VWBG 13(16)t with special thread
8600453
28,600
1
413⁄32
97⁄32
29⁄16
327⁄32
311⁄32
17⁄8–113⁄4
33⁄4
Lifting Point threaded VWBG 16(22)t with special thread
8600454
35,200
11⁄4
49⁄16
1025⁄32
23⁄4
43⁄4
23⁄16–113⁄4
43⁄4
33⁄4
Lifting Point threaded VWBG 16(25)t with special thread
8600455
35,200
11⁄4
49⁄16
1025⁄32
23⁄4
43⁄4
21⁄2–113⁄4
43⁄4
33⁄4
Lifting Point threaded VWBG 31.5(40)t with special thread
8600456
69,300
113⁄16
51⁄8
135⁄16
317⁄32
611⁄16
213⁄16–113⁄4
61⁄4
511⁄16
Lifting Point threaded VWBG 35(48)t with special thread
8600457
77,000
113⁄16
51⁄8
135⁄16
317⁄32
611⁄16
31⁄8–113⁄4
61⁄4
511⁄16
Lifting Point threaded VWBG 40(50)t with special thread
8600157
88,000
113⁄16
51⁄8
135⁄16
317⁄32
611⁄16
31⁄2–113⁄4
61⁄4
511⁄16
Lifting Point-Vario VWBG-V 0.3t-M8 with max. length F=102
8600330
660
0.64
5⁄16
17⁄32
3
15⁄32
13⁄16
11⁄8
4
127⁄64
M8
Lifting Point-Vario VWBG-V 0.45t-M10 with max. length F=122
8600331
990
0.84
5⁄16
17⁄32
31⁄16
15⁄32
127⁄64
13⁄16
413⁄16
11⁄2
M10
Lifting Point-Vario VWBG-V 0.6T-M12 with max. length F=140
8600332
1,320
1.34
3⁄8
115⁄16
47⁄32
13⁄8
121⁄32
127⁄64
51⁄2
17⁄8
M12
Lifting Point-Vario VWBG-V 1.0t-M14 with max. length F=65
8600337
2,200
0.44
1⁄2
113⁄16
41⁄2
11⁄2
17⁄8
15⁄8
29⁄16
23⁄16
M14
Lifting Point-Vario VWBG-V 1.3t-M16 with max. length F=180
8600333
2,860
1.96
1⁄2
113⁄16
41⁄2
11⁄2
17⁄8
15⁄8
71⁄16
23⁄16
M16
Lifting Point-Vario VWBG-V 1.8t-M18 with max. length F=83
8600338
3,960
2.43
1⁄2
21⁄8
53⁄8
13⁄8
21⁄2
25⁄32
31⁄4
25⁄8
M18
Lifting Point-Vario VWBG-V 2.0t-M20 with max. length F=223
8600334
4,400
3.99
1⁄2
21⁄8
53⁄8
13⁄8
21⁄2
25⁄32
825⁄32
25⁄8
M20
Lifting Point-Vario VWBG-V 2.0t-M22 with max. length F=94
8600334
4,400
3.20
1⁄2
21⁄8
53⁄8
13⁄8
27⁄16
25⁄32
311⁄16
25⁄8
M22
Lifting Point-Vario VWBG-V 3.5t-M24 with max. length F=255
8600335
7,700
7.72
11⁄16
25⁄8
613⁄16
19⁄16
33⁄16
23⁄4
101⁄32
315⁄32
M24
Lifting Point-Vario VWBG-V 3.5t-M27 with max. length F=92
8600339
7,700
6.46
11⁄16
25⁄8
613⁄16
19⁄16
33⁄16
23⁄4
35⁄8
315⁄32
M27
Lifting Point-Vario VWBG-V 5.0t-M30 with max. length F=330
8600336
11,000
15.43
7⁄8
317⁄32
811⁄16
131⁄32
37⁄8
311⁄32
13
43⁄16
13⁄16

* Working Load Limit Lifting Capacity Indicate Length Upon Request Indicate M size & F length upon request