Cable Laid Slings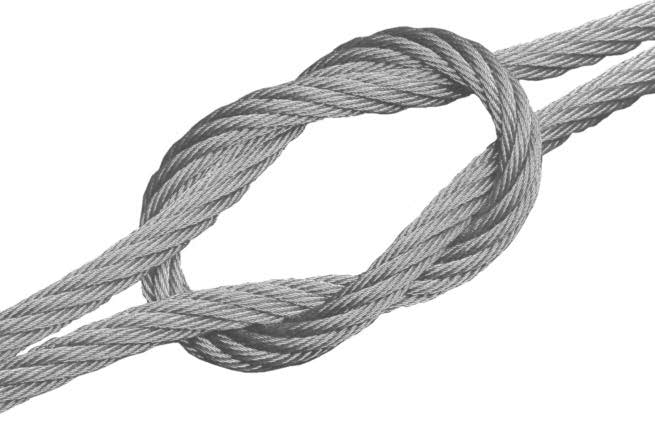 Cable Laid Slings are constructed from 7 individual galvanized ropes "cabled" together. This makes a very flexible sling for special applications.
Manufactured with UNI-LOC® Flemish Eye Splice.
Design Factor is 5:1 for the Sling WLL in tons of 2000 lbs.
Rated Capacity – Working Load Limit (WLL) at DF 5:1
Values shown are in tons of 2000 lbs and are based on 6-strand wire rope with a steel core (IWRC)
Note: WLL's are based on the "Wire Rope Users Manual" published by the Wire Rope Technical Board, USA.
Sling
dia.
inch
Eye
length
L x W
WLL tons
WLL tons at
WLL tons at
WLL tons at
Vert.(1)
Choker(2)
60°
45°
30°
60°
45°
30°
60°
45°
30°
1/2(3)
8 x 4
1.9
1.3
3.2
2.6
1.9
6.4
5.2
3.8
2.2
1.8
1.3
5/8(3)
10 x 5
2.8
1.9
4.8
3.9
2.8
9.6
7.8
5.6
3.4
2.7
1.9
3/4(4)
12 x 6
4.1
2.8
7.0
5.8
4.1
14
11.6
8.2
4.9
4.0
2.8
7/8(4)
14 x 7
5.4
3.8
9.3
7.6
5.4
18.6
15.2
10.8
6.5
5.3
3.8
1(4)
16 x 8
6.9
4.8
12
9.7
6.9
24
19.4
13.8
8.3
6.8
4.8
1-1/8(4)
18 x 9
8.3
5.8
14
12
8.3
28
24
16.6
10
8.2
5.8
1-1/4(4)
20 x 10
9.9
6.9
17
14
9.9
34
28
19.8
12
9.8
6.9