Clevis Shortening Clutch

Grade 80, forged alloy steel, heat treated.
The pouch pocket grabs the chain securely, but at the same time the clutch is awkward to install and to use. Plus, there is the chance that the chain is installed backwards creating an unsafe condition.
Cradle design permits use of full chain capacity.
Requires extra chain leg.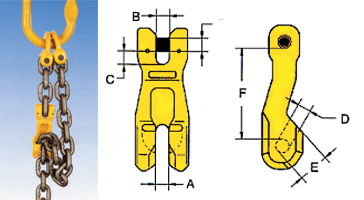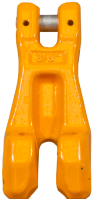 For chain
diameter
inch
Stock Code
No.
Dimensions inch
Weight
each lbs
A,B
C
D
E
F
1/4 – 9/32
C8-SCC-025-RC
.34
.39
.35
.63
2.44
1.1
3/8
C8-SCC-038-RC
.49
.55
.47
.98
3.43
2.2
1/2
C8-SCC-050-RC
.65
.67
.59
1.26
4.53
4.4
5/8
C8-SCC-062-RC
.81
.75
.75
1.54
5.63
7.1
3/4
C8-SCC-075-RC
.85
.91
.87
1.81
5.98
10.8