Gripper® Wire Mesh Slings
Wire Mesh Slings That Hold On. And On. And On.
The industry's strongest, safest and most versatile Wire Mesh Sling. Gripper® Slings offer the longest service life and are most resistant to rough treatment. Excellent for abrasive and sharp edge loads.
Unirope is a factory certified Gripper® Sling fabricator and we perform repairs and re-certifications as well.
Unirope's GRIPPER® metal mesh slings offer certain specialized advantages over other types of slings, especially if the load is being handled is abrasive or sharp-edged, unstable, hot or corrosive.
But perhaps a GRIPPER® Sling's most important quality is its durability. The wire mesh offers excellent resistance to abrasive loads and as a result offers unsurpassed longevity.
The choker and triangle fittings are joined to the metal mesh with stainless steel connector spirals. Using stainless steel connector spirals reduces the likelihood of failure at this point and assures complete flexibility between the fittings and the wire mesh.
---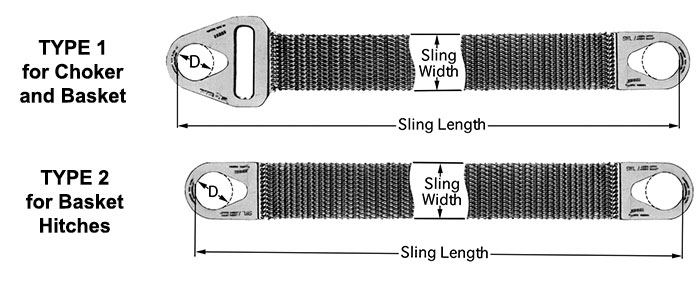 Working Load Limit lbs (Design Factor 5:1)
Heavy Duty – 10 gauge

Sling Width inch
D inch
Chocker (1)
90° Basket
60°
45°
30°
2
1-3/4
1,600
3,200
2,700
2,000
1,600
3
2-1/2
3,000
6,000
5,100
3,800
2,800
4
2-1/2
4,400
8,800
7,480
5,600
4,400
6
2-3/4
6,600
13,200
11,225
8,400
6,600
8
4
8,800
17,600
15,000
11,250
8,800
10
4
11,000
22,000
18,700
14,000
11,000
12
4-1/2
13,200
26,400
22,440
16,800
13,200
14
4-1/2
15,400
30,800
26,180
19,600
15,400
16
4-1/2
17,600
35,200
29,920
22,400
17,600
18
4-1/2
19,800
39,600
33,660
25,200
19,800
20
4-1/2
22,000
44,000
37,400
28,000
22,000

(1) Applies to Type 1 slings ONLY