KITO (TS) – Beam Trolleys
Machines in motion.
The reliability, operational smoothness and safety of your hoist depends on the trolley. Heat-treated steel wheels, sealed bearings and a low-turn radius are just some of the benefits of a plain or geared trolley from Kito.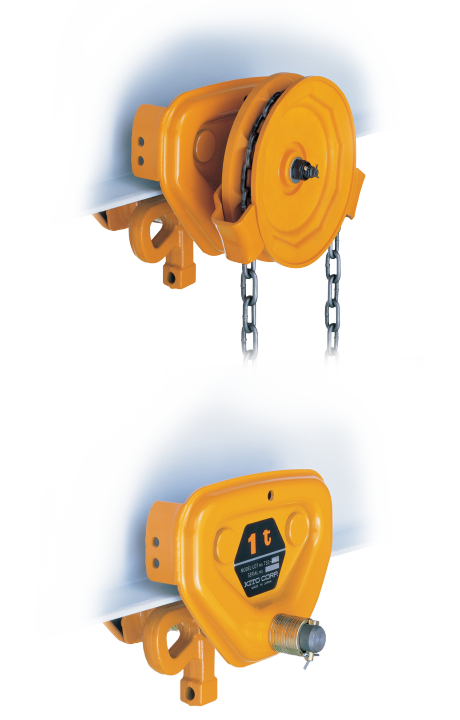 ---
Plain or Geared Trolleys
Perfect for traversing a load when electric power is not necessary or available, KITO's TS plain push/pull or geared trolleys can be paired with almost any Kito hoist.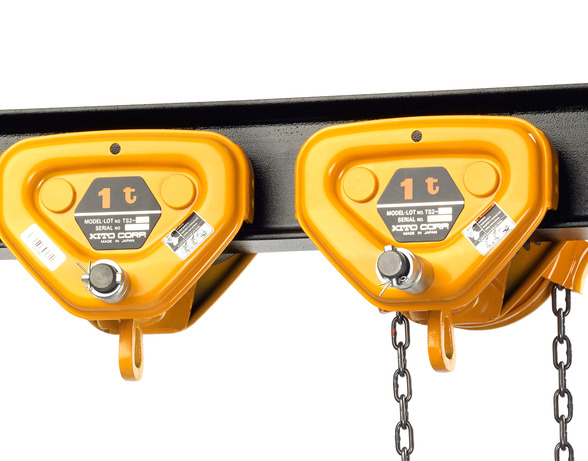 ---
Stamped steel side plates
Engineered to be lighter and easier to install, the ½ to 3 tonne model TS trolleys are specifically designed to be robust and durable, without unnecessary weight and bulkiness.
---
Low Minimum Turn Radius
For curved beams where tight turns are required, Kito's TS trolleys allow a low minimum turn radius.
---
Fits Tapered or Flat-Flanged Beams
TS Trolley wheels are adjustable to work with both tapered and flat-flanged beams, allowing you to use existing equipment without customization. Lifetime-lubricated ball bearings also increase reliability and provide you with smooth operation while traversing a load.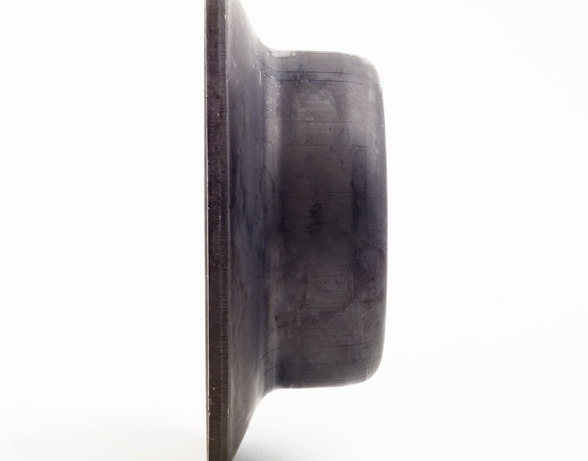 ---
Design
CAPACITY
STANDARDS
Operating Conditions: -40 to +60° Celsius
Safety lugs supplied standard
OPTIONS
Rubber bumpers
Variety of suspenders
BODY
A strong and rigid lightweight, compact design
WHEELS
Contoured wheels that fit both tapered and flat-flange beams
COMPATIBILITY
Adjustable flange width to fit a wide variety of beam flange widths.
BEARINGS
Maintenance-free low friction design. Lubricated for life.
OPERATION
Push trolley: Suited to applications involving greater traversing distances.
Geared trolley: Suited to applications with short traversing distances and precise load movement.
---
Geared Trolley Mount
Dimensions
Capacity (tonne)
Model
a
b
c
d
e
f
g
h
i
j
k
l
m
n
1
TSG2010
106
58 – 127
71
116
2200
B – 48
106
119
18
272
236
18
112
85
2
TSG2020
127
82 – 153
85
154
2700
B – 57
109
138
18
316
280
18
131
104
3
TSG2030
148
82 – 153
100
157
2700
B – 62
398
153
25
374
324
25
152
118
5
TSG2050
168
100 – 178
118
156
3200
B – 76
401
172.5
—
400
178
—
178
146.5
10
TSG2100
185
150 – 200
155
182
3700
B – 90
165
117
25
542
492
25
196.5
230
20
TSG2200
185
150 – 200
155
411
4200
B – 90
972 – 1042
117
—
1012
—
—
520
230

* All measurements in millimeters (mm)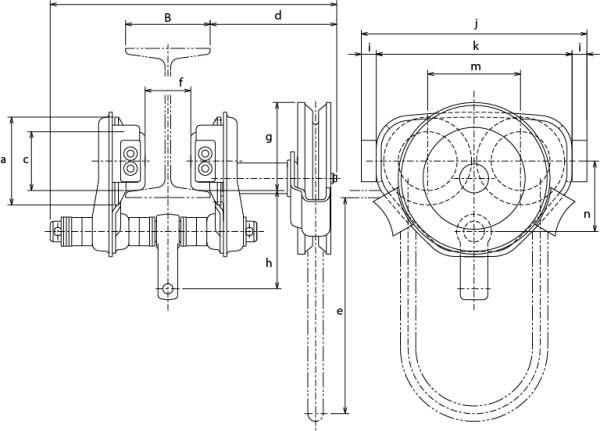 Specification
Capacity (tonne)
Model
Minimum Radius to Curve (mm)
Flange Width
Standard Drop (ft)
Ship Weight (lbs)
Standard
W20 Extension
W30 Extension
1
TSG2010
1300
58 – 127
128 – 203
204 – 305
8
27
2
TSG2020
1500
82 – 153
—
154 – 305
10
42
3
TSG2030
1700
82 – 153
—
154 – 305
10
60
5
TSG2050
2300
100 – 178
—
179 – 305
10
174
10
TSG2100
3000
150 – 220
—
221 – 305
12
300
20
TSG2200
—
150 – 220
—
221 – 305
12
440
---
Plain Trolley Mount
Dimensions
Capacity (tonne)
Model
a
b
c
d
e
f
g
h
i
j
k
m
½
TSP2005
182
102 – 305
84
68
60
46
404 (max)
B – 45
60
82
B – 30
19
1
TSP2010
236
172 – 305
112
85
69
56
424 (max)
B – 48
71
106
B – 30
28
2
TSP2020
280
154 – 305
131
104
76
69
450 (max)
B – 27
85
127
B – 30
34
3
TSP2030
324
154 – 305
152
118
85
79
470 (max)
B – 62
100
148
B – 30
36
5
TSP2050
400
176 – 305
178
146.5
85
53
412 (max)
B – 77
118
169
B – 30
46.5
10
TSP2100
480
150 – 220
196.5
230
72
75
488 (max)
B – 90
155
185
B – 30
70

* All measurements in millimeters (mm)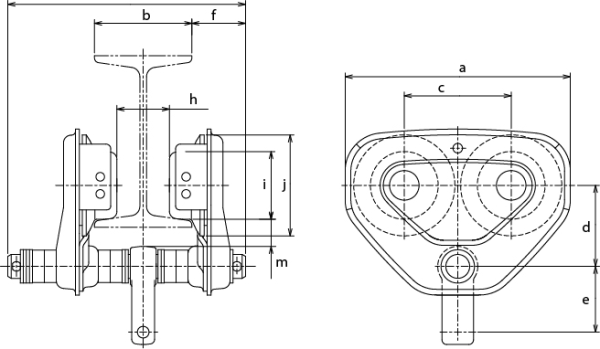 Specification
Capacity (tonne)
Model
Minimum Radius to Curve (mm)
Standard Flange (mm)
Standard Drop (ft)
Ship Weight (lbs)
Standard
W20 Extension
W30 Extension
½
TSP2005
1100
50 – 102
103 – 203
204 – 305
—
10
1
TSP2010
1300
58 – 127
128 – 203
204 – 305
—
18
2
TSP2020
1500
82 – 153
—
154 – 305
—
31
3
TSP2030
1700
82 – 153
—
179 – 305
—
51
5
TSP2050
2300
100 – 178
—
179 – 305
—
116
10
TSP2100
3000
150 – 220
—
221 – 305
—
220