---
Wireless Centre of Gravity Software – WCOGS
Wireless Centre of gravity system designed specifically for use when large industrial items such as absorbers, generators, turbines, reactors, boilers, towers, locomotives, boats, military equipment or offshore industry parts such as oil rigs and production platforms have to be moved. Heavy lift companies need large capacity load cells and easy to use software to quickly report weight and centre of gravity.
This latest version of Straightpoint's wireless centre of gravity system uses wireless compression load cells and new and improved, simple to use, software package. Operators can now view on screen and in real-time, up to 36 individual load cell loads, and the dynamic centre of gravity. The valuable centre of gravity analysis report can be easily saved and or printed.
Written with ISO19901 in mind this package has several benefits:
100% Wireless
Between 3-36 load cells of the same capacity can be used at any one time
ISO19901 compliant
700m / 2300ft range
On screen, real time centre of gravity view
Three weighings per report with averages and statistical analysis
Plot load cell positioning using measurements or GPS co-ordinates
Extra fields for operator, client, wind speed and temperature available for reporting
For many heavy lift projects there is an absence of standardisation which requires individual transport planning. With a range of tension or compression load cells and this software, Straightpoints' commitment to the heavy lift industry is second to none.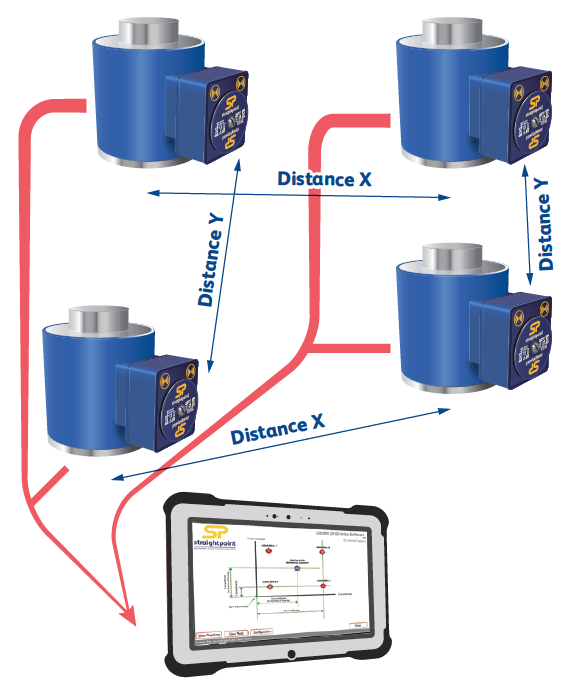 Video Demonstration
Click below to see a working demonstration of Straightpoint's™ software package.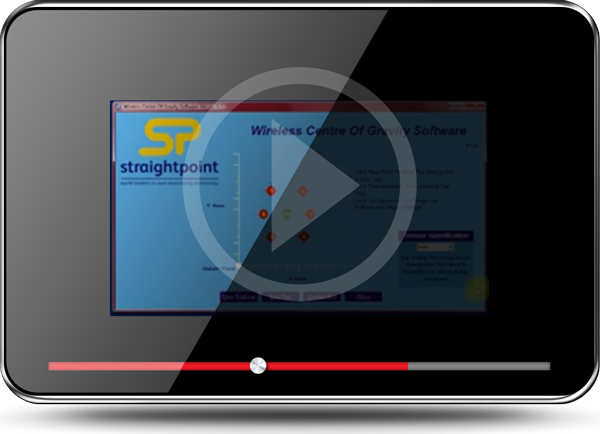 top

---
Prooftest Plus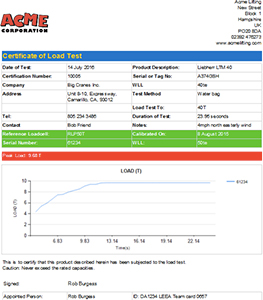 Numerous load testing applications worldwide require a load cell to verify the load applied. From crane testing using water weight bags to pad eye testing using hydraulic tools where the need to document test procedure and results has never been greater as users of lifting equipment call for more traceability and audit trails. A proof test is a form of stress test to demonstrate the fitness of a load-bearing structure and is nominally a non-destructive test. Such a structure is often subjected to loads above that expected in normal use, demonstrating safety and design margin.
FEATURES AND BENEFITS
100% Wireless, no easily damaged cables
700m range allows operator to stand at safe distance from test
Log data at speeds up to 200Hz
Connects to any Straightpoint
wireless load cell
Automatically creates digitally signed pass or fail certificate
Real time load v time graph display
Free entry fields to note wind speed, sea states etc.
This demand has increased such that Straightpoint now offer a new software package designed to connect to any of their wireless load cells – 'Prooftest plus'. This impressive package allows the test engineer to wirelessly, and at a safe distance, monitor a proof test and automatically create a pass or fail certificate when testing is complete. This report in PDF format may then be instantly printed, emailed or uploaded to the cloud, resulting in a traceable document for both test engineer and end customer.
Typical load tests using Straightpoint loadcells include:
Bollard pull tests
Tug tests
Crane Test (Water bags, block weights)
Pad eye or fly point testing
Crash barrier testing
Lifting equipment testing – Slings, chains, wire rope, hooks
Construction equipment testing – Shoring columns, acrow props and lintels
Lifting and spreader beam testing
Hydraulic cylinder load test
Video Demonstration
top

---
DATALOGGING SOFTWARE (SW-MWLC)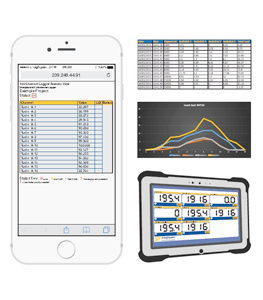 Straightpoint's Multiple Wireless Load Cell Controller (SW-MWLC) software package is aversatile, user friendly, wireless load cell control, display and data logging tool designed for use on the Windows PC platforms, Vista, Win 7, 8 & 10. SW-MWLC allows simultaneous, wireless communication between Straightpoint wireless load cells and a Windows PC.
A resizable window displays a table of up to 100 wireless load cell channels of live data. Channels can be setup with user defined mathematical functions that can be used to calculate a multitude of results. For example, a display can show the value from a single load cell or the sum of multiple load cells. Visual display and audio alarms can indicate under and over range as well as loss in communications, low battery and error reports. SW-MWLC can log on demand, at pre-set intervals, on entering and leaving a pre-set overload and during an overload. Data is logged to a CSV file which can be opened for analysis by software programs such as Microsoft Excel. JSON format data is also available on demand via the built in web server
For more complex applications, graphical pages can be built showing the data in a variety of formats including digital display or bar graphs. Up to eight pages can be defined and the pages easily navigated between a variety of image formats that can be imported, including JPG, GIF, PDF and DXF. Custom applications including branding and colour scheme are available. Please contact Straightpoint's sales department for pricing. SW-MWLC software is supplied with a SW-USBBSE extended range USB transceiver.
Key Features & Benefits
Displays and logs data up to 100 Straightpoint wireless load cells simultaneously
Mapping/graphical capabilities
Webserver offers remote viewing on iPads/tablets/smart phones and also supplies JSON data on demand
Logging at timed intervals, manual or on overload / underload
Visual and audible alarms indicates overload, low battery & comms error
Zoom in to channel to see data trends and history
Export and log data in CSV format
Video Demonstration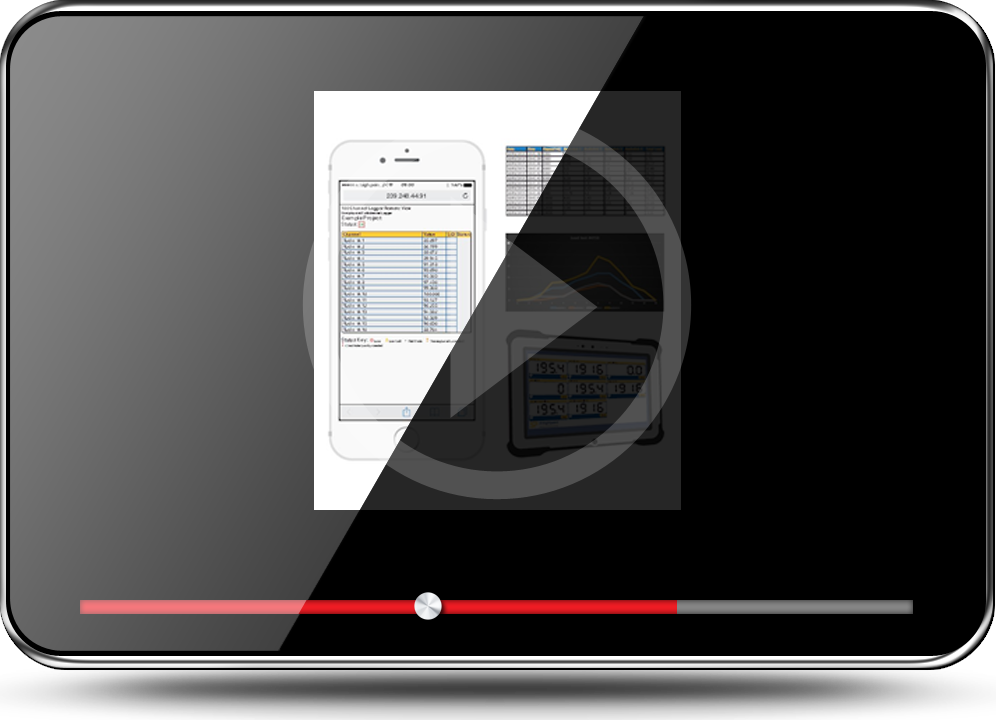 ---
Datalogging Software – DCP10M DESKTOP CONTROLLER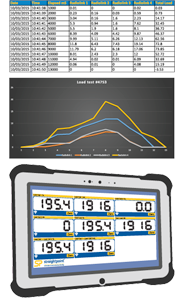 FEATURES AND BENEFITS
Software formatted for use on Windows based laptop or tablet
High speed digital signal from loadcell to Windows based device
Data logging by time and date into spreadsheet or single reading report generator
Can connect to any self indicating Straightpoint loadcell
Low cost, high power solution from Straightpoint
Windows based software package. DCP10M simply plugs into the spare port on the loadcell and connects to a Windows based PC, laptop or tablet.
This easy to use software allows the operator to view live loads, control the loadcell on screen and then log data using either of two methods. The first method allows the operator to set up a time interval and then load data directly into a .csv file by time and date as the test is happening.
The file can then be opened in Microsoft Excel and the data analysed; this is especially useful for dynamic load monitoring applications. Secondly, the software will allow the operator to generate a single load report within Microsoft Word – this report details the load applied and the time and date of test.
This function is very useful in testing applications where an ultimate load needs to be achieved and recorded. DCP10M is supplied with a 10metre or 30 foot cable assembly, other lengths are available on application. A spare USB port is required.
Cable Version Part Number: DCP10M
For connection to Loadlink Plus, Miniweigher, Loadblock and Handheld Plus.