Self Locking Swivel Hooks with Ball Bearings
NOW available with a free swiveling Ball Bearing top attachment.
This allows you to swivel a load while IT IS LIFTED and SUSPENDED.
Standard "Positioning" swivels can ONLY be rotated while they are NOT under any load.
Note that Ball Bearing swivels must NOT be used with wire rope as the swiveling action will UNLAY the rope.

Grade 100, forged alloy steel, heat treated.
With Ball Bearing
Hook can swivel under full WLL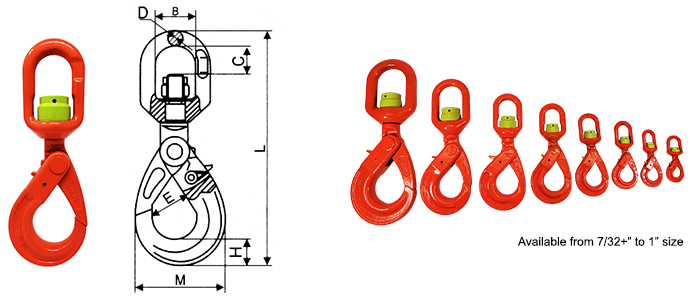 For chain diameter inch
Stock Code
No.
WLL
Rated Capacity
Vertical (90°) DF 4:1
lbs
Dimensions inch
Weight
each lbs
B
C
D
E
H
M
L
T
7/32+
C10-SLSB-022-RC
3,100
1.28
1.38
0.45
1.06
0.77
2.76
7.72
0.59
1.48
5/16
C10-SLSV-031-RC
5,700
1.61
1.57
0.51
1.40
1.03
3.54
9.61
0.79
2.67
3/8
C10-SLSB-038-RC
8,800
1.89
2.01
0.61
1.77
1.08
4.25
11.38
1.02
4.85
1/2
C10-SLSB-050-RC
15,000
2.17
2.32
0.67
2.07
1.58
5.43
13.94
1.28
9.70
5/8
C10-SLSB-062-RC
22,600
2.44
2.60
0.85
2.44
1.97
6.69
16.69
1.50
16.49
3/4
C10-SLSB-075-RC
35,300
2.99
2.99
1.02
2.99
2.42
7.52
19.25
1.97
30.31
7/8
C10-SLSB-088-RC
42,700
3.82
3.94
1.30
3.11
2.52
8.19
22.28
2.05
41.47
1
C10-SLSB-100-RC
59,700
4.84
4.69
1.65
3.94
3.20
9.96
27.09
2.36
69.22