Inter Product – IPVK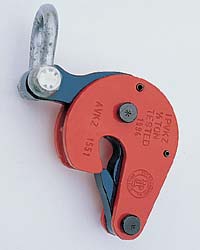 Model IPVK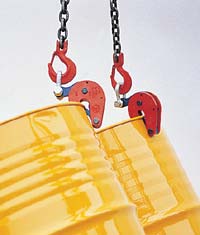 Model IPVK
For the lifting and transfer of steel drums
The IPVK drum lifting clamp is specifically designed for the lifting and transfer of steel drums. The IPVK clamp is designed so that it locks automatically when placed on the drum. It can be used by itself or in pairs.
Spare parts for IPVK lifting clamps:
Order No.
1.
body complete
2.
hoisting eye complete
1235
3.
camsegment complete
1234
4.
clamping arm complete
0190
5.
spring complete
1063
6.
body shaft complete
0088

Before using the clamp always read the Operator's manual supplied with the clamp.
Model
Order
No.
WLL per
pce in t
Weigh per
pce lbs
0,5-IPVK
0116
0.5
4
Model
Order
No.
WLL per
pce in t
Dimensions In Inches
Weight
lbs
A
B
C
D
E
F
G
H
J
K
0,5-IPVK
0116
0.5
5/8
1 1/32
5 5/16
5 13/64
1 9/64
–
2 1/64
–
–
7/16
4