Technical Literature / Littérature technique
Unirope's Product- and Education Literature. Over 500 pages filled with information to help you through the 'rigging' day.
Product Catalogues:
Wire Rope
45 pages with all technical information on wire rope sold by us.
Câbles d'Acier
45 pages avec toute l'information technique sur les câbles d'acier que nous vendons.
Wire Rope Inspection
27 pages all about rope inspection, installation, and handling procedures.
Inspection des câbles d'acier
27 pages sur l'inspection, l'installation et les procédés de manutention.
Wire Rope Lifting Slings
97 pages of every type of wire rope sling including rigging guidelines, hardware, and inspection.
Élingues en câble métallique
109 pages sur tous les types d'élingues en câble métallique y-compris les directives de gréage, les accessoires et l'inspection.
Twin-Path® and Synthetic Lifting Slings
107 pages of everything you want to know about synthetic slings.
Élingues de levage TWIN PATH®et élingues de levage synthétiques
Plus de 107 pages sur tout ce que vous voulez savoir sur les élingues synthétiques.
Rigger's Choice® Chain Slings
148 pages of all types of chain and wire mesh slings including inspection and safe use info.
Élingues de chaîne Rigger's Choice®
142 pages sur tous les types d'élingues de chaîne, y-compris l'information sur l'inspection et l'utilisation sécuritaire.
Education Guides:
Mobile Crane Installation Guide
A 'to-the-point' 7 page guide which every mobile crane operator should have in his cabin.
Click Here to View PDF.
(1.5Mb)
Mobile Crane Installation Guide
4-page, pocket version for the toolbox.
Web Sling Operating Guideline
Click Here to View PDF.
(16.2Mb)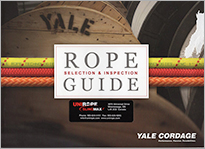 YALE ROPE GUIDE: Fibre rope inspection guideline
29 pages
---
Distribution Partners Literature:
CROSBY: 2016 General Catalogue
480 pages
CALDWELL: Composite and Steel Lifting beams
KITO: Chain- and Electric Hoists
36 pages
MAGNA: Chain Hoists, Pullers, Beam Clamps
RENFROE: Plate Clamps
160 pages
ROPE BLOCK: Crabe- and Snatch Blocks
72 pages
STRAIGHT POINT: Crane scales, load cells, Dynanometers
41 pages
VAN BEEST: Shackles, turnbuckles, swivels
178 pages
YALE CORDAGE: High performance fibre ropes
51 pages
Please call 905 624 5131 or email us at info@unirope.com to receive your free copy of any of the literature above.
---
Wall Charts:

Click here to download Chain slings rated at DF of 4:1 version
(823KB)

Click here to download Chain slings rated at DF of 5:1 version
(824KB)

We now have available 2 different Wall Chart versions: one with Chain Slings rated at a Design factor (DF) of 4:1 and one with Chain Slings rated at a DF of 5:1.

Note that Chain Slings with a DF of 4:1 are specified in ASME B30.9, ASTM A 952, NACM 2010, EN 818-4, the US OSHA and all other Canadian Provincial Health and Safety Acts (other than the exception of the construction industry in Ontario, as noted below).

Ontario:

The reason for having a second WLL Chart rating Chain Slings with a DF of 5:1 is that in Ontario the OHSA for Construction Projects demands it.

ALL other industries and applications are rated with a DF of 4:1.

Quebec:

In Quebec the Provincial Government published "Greage et Levage" which, to our understanding (and impossible to have this confirmed by any Quebec Governmental body) applies to the ENTIRE Quebec industry and also demands a Chain Sling DF of 5:1. This publication is a straight translation of the "Rigging Manual" originally published by the "Construction Safety Association of Ontario". However the publisher, CSSST, missed the little detail that the original publication was intended for the CONSTRUCTION industry ONLY, while the same publication in Quebec now applies to the entire industry across Quebec.

Unirope can not give any recommendation anymore in Quebec as to "what is required by law". As of 2014 most of Quebec enforcement seems to be oblivious to this, or they simply will enforce this "at will" while nearly ALL of our Quebec customers simply ignore the entire matter.

Any advice ? Give us a call.

For FREE printed versions DF 4:1 and DF 5:1 sized 46″ x 48″ Sling Capacity Wall Chart please call us or talk to your local Unirope® Rigging Consultant.